The NFL has named Booker T. Washington High School Coach Derrick Avery as the recipient of the 2020 NFL Don Shula High School Coach of the Year, the league announced today.
The honor is given to the high school football coach that best represents character, integrity, leadership, dedication to the community, commitment to player protection, and on-field success.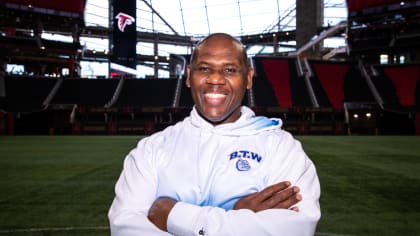 Last fall, Avery led the Booker T. Washington High School Bulldogs to a 7-3 record and a return to the postseason – a four-win improvement over the season prior.
Off the field, Avery was the first local high school coach to partner with the Falcons' player-led social justice committee in the Rise Up & Vote campaign, which focused on voter education and participation. Throughout the fall, he made the initiative a top priority across all sports at Booker T. Washington High School.
Avery ensured all of his players, not just the eligible group working the polls, took part in various social justice conversations and voter education calls. Those who were eligible to volunteer, along with their head coach, spent time learning voting rules and regulations, watching educational videos, and speaking with local legislators. On Election Day in November, eligible Booker T. Washington players volunteered at polling precincts throughout metro Atlanta thanks to Avery's guidance.
"I love football, I love sports, it comes naturally when you love what you're doing. You never think about the accolades or gifts," Avery said. "It's an honor to be chosen. From out of 400 coaches in Georgia to the 32 outstanding coaches from the clubs, it really is an honor."