On November 7th during the Municipal elections, voters in the metro Atlanta area will choose representation for a variety of elected seats-including school board seats. As custom for us as an independent news organization, we have approached every candidate who qualified to run with a series of questions for them to answer for the voters of Atlanta.
Once each candidate returns their questionnaire, their answers are posted as-is and without commentary from the editorial team, minus grammatical corrections. If any candidate did not receive a questionnaire, they can email our editorial team at editor@educationinatlanta.com.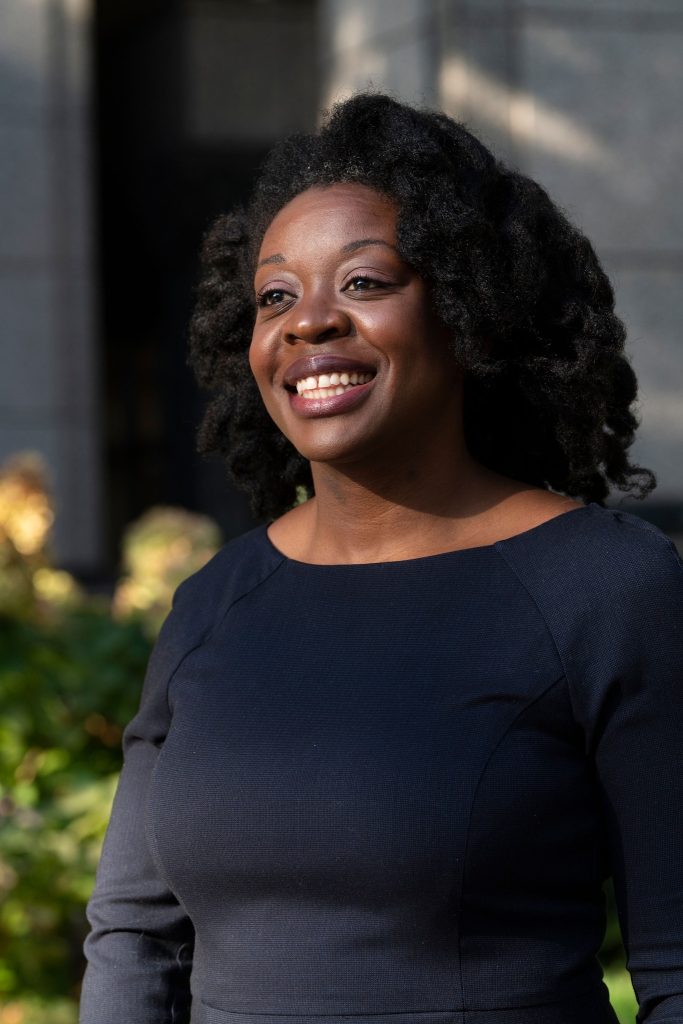 Nkoyo Effiong Lewis, Candidate for APS School Board 9
Background/Reasons for Seeking (Re)Election: 
Why are you running for the Board of Education? If (re)elected, what will be your priorities? 
APS needs bold, proven leadership grounded in our current reality. We cannot wait. As a teacher, special education attorney, and parent, I understand the urgency of now. For nearly twenty years, I have been advocating for equity and excellence in our schools. 
Is there a particular issue that motivates you to serve on the board of education?
I know what it feels like to love and parent one of the 5,000 APS students with disabilities. I know the sacrifices parents make and the burdens we must bear when the school does not deliver appropriate services. Ensuring your child receives a dignified education in our system can be a painful struggle. As a mom of two more young children, ready to embark on their APS education journey, I want a brighter future for my kids and for every child in every classroom and in every cluster. 
What experiences or skills have prepared you to be a board member? 
As a classroom teacher, I prepared my students for success in the fifth grade and beyond, regardless of their skill level when they entered my room. As an instructional coach, I equipped teachers to use data to make informed instructional decisions and increase 
student outcomes. As an attorney, I represented parents and students in school discipline and special education matters to ensure they received what they were legally entitled to receive. As a parent, I know how challenging it is to advocate for your child to have a dignified education experience, especially if they learn or behave differently. 
In what school district or community activities/organizations have you been involved?
I have been involved in the following community organizations: 
State Bar of Georgia 
American Bar Association 
Georgia Association of Black Women Attorneys 
Council of Parent Attorneys and Advocates 
Young Lawyers Division, Advocates for Students with Disabilities Committee 
Former Hearing Officer Atlanta Civil Service Board 
Former IEP Facilitator, Georgia Department of Education 
Why should you be elected to the Board of Education? 
The City of Atlanta, its students, families, schools, and communities deserve a leader who understands the complexity and urgency of the matter, who has a proven track record of getting results, and shares a similar stake in the outcomes of our schools. 
What differentiates you from the other candidates and/or board members?
I am only one of two candidates running or serving who has taught in our schools. I am the only candidate who has taught children to read. My fourth-grade students grew, on average, two academic years when they were with me. Facing huge gaps in literacy, especially with lower-income students and with black students, we need a sitting board member who has done the work of teaching children to read as we create and oversee literacy policies that will shape our next generation of learners. 
Board of Education Governance:
What attributes and behaviors are essential for school board members?
Our next superintendent must be future-oriented, flexible, collaborative, bold, fair, open-minded, experienced, and willing to put student outcomes before and above everything else. 
What is the best way to address differences of opinion on or between the board and the administration? 
The best way is through dialogue and courageous conversations. We should not shy away from discourse on the grounds of differing opinions. 
Could you support a board decision you did not vote in favor of? Why or why not?
Yes. The board governs as a whole. Once I had an opportunity to explain my rationale, make my point, and share my data and evidence, and I am unable to convince four others to vote in my favor, then I have done all I can do within my power. The system is designed to govern as a whole and I would not undermine the system in that way. 
How can the board be accessible to the community? To specific community groups? -AND- How can a board of education best communicate with its constituent groups?
This is a priority for me, driven by my experiences fighting to be involved in my son's education and the decisions made about him. First, we must make information more easily accessible. The community should be able to locate key information quickly and simply. Second, we should show up in the community and in our schools regularly. Parents and caregivers should not only be asked to come to us. Engagement works both ways. Lastly, if we are truly committed to community engagement, we should allow for sufficient time to engage in a conversation, reflect on the feedback we receive, and pivot when we do not have community support for an action. 
Educational Program: 
What issues do you believe your district needs to address in its academic program and offerings? 
Our academic programs and offerings should be as diverse as the populations we serve. The biggest issue is trying to make everyone do the same thing instead of allowing the teachers and school to lead this work 
What should your school district do to prepare students as citizens better?
We need to do a better job educating the whole child. Our academic efforts should be matched with social-emotional learning and 21st-century skills that prepare students for a future that is unknown and unknowable given the rapid advances in technology. 
What can be done to improve student achievement and ensure everyone who graduates is college-ready? 
There is a wealth of new information and research behind the science of how our brains, especially young brains, learn. We need to align our instructional programs to this new research. We also need to teach students important skills to manage their emotions, problem solve, navigate conflict appropriately, and positively respond to challenges. 
What are your thoughts on your school district's programs for special education students, English Language Learners (ELL), and gifted students? 
There is a common misconception that special education students cannot learn, As a mother of a child who learns differently, I have heard teachers tell me and my family that my son was not going to learn his multiplication facts, so there was no need to teach him them in school. We took him home, taught him, and in less than three months, he learned all of his facts from 0-12. So, special education students, English Language Learners, and gifted students should have access to opportunities for growth and learning. 
School Board Issues:
What is your vision for education in this community? 
My vision is simple: an APS that works for all of us. I truly believe that every single child deserves a safe and supportive learning environment, that every single classroom should be led by innovative teachers who are valued and respected, and that every single cluster has the right to a high-quality and dignified education. This is personal. My own children are zoned into a cluster that has a graduation rate of 84%, a literacy proficiency rate of 17%, and a math proficiency of 4%; I know that there is more we can offer families. 
What are the major issues (s) facing your school district? Public education? 3
We have many issues to address from disparate student outcomes, teacher shortages, exclusionary discipline and a lack of strong community engagement. 
What are your areas of concern regarding student achievement in your district?
The disproportionate rates between zip codes, race, and ability in Atlanta Public School's graduation rates and literacy rates are astonishing. Sharp lines can be drawn in our achievement data along these lines and it is unacceptable. All students, regardless of race, place, or ability should receive a quality education from APS. 
Do you have specific suggestions for improvement? 
I want us to be courageous and confront our data with open eyes. We must recognize the communities we have failed to educate, rebuild the trust of our families, seek solutions from the ones closest to the problem at the schools, decide on a plan of action, and then supply the resources for that plan to be successful. 
Early voting started October 16 and continues through November 3rd in select locations. Please visit www.fultonelections.com for more details.